How to Align Your Managed Services with SMB Business Priorities
By leveraging an IT Managed Service provider, small-to-medium sized businesses will enjoy a more efficient and proactive approach to IT that aligns with their business priorities and allows them to focus on what matters most – growing their business.
Please see the above chart which outlines the top business priorities for SMB business.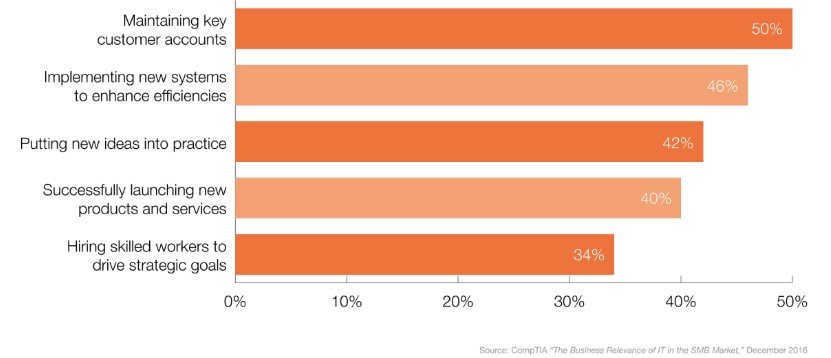 For most firms, business priorities almost always start with the customer – and you are no exception. Today, customer engagement typically spans multiple devices, operating systems, privacy requirements and more – all of which you need to ensure work seamlessly. However, managing this ecosystem, along with the wealth of data generated from your numerous interactions, is a heavy lift. If maintaining customer accounts is a key priority for you this year, then imagine what would happen if you didn't have access to customer data. How would that affect your relationships or your ability to properly provide them with your services? Accidental data loss can happen at any time and can have a lasting negative impact for any business. To safeguard against this, you need strong business continuity and disaster recovery plans to ensure downtime is minimized should a data loss incident occur. By partnering with a managed services provider, you will ensure that your essential customer data is always protected and easily accessible.
---
Are you looking to implement new technology or systems to enhance efficiencies? Oftentimes this requires upgrades to your computers, software, automation, etc. As an SMB, however, you might only have a few in-house resources available to support this. If you want to experience better, more efficient processes, consider partnering with an MSP so you can have a team of engineers ready to respond to your service requests. Outsourcing your basic IT functions to an MSP helps ensure that your systems run smoothly and efficiently at all times, so you can focus on your core business operations. Additionally, you'll be free to allocate your internal staff resources to focus on strategic projects and business activities that will help grow your business.
---
Innovation is a key component to your business' success. You understand that embracing new technologies can help you propel your business, yet the realities of actually running your business can stand in the way. Also, as the role of technology continues to expand, so do the decision-factors related to how it is managed. While you'd like to have a deep bench of highly skilled IT professionals, the reality is that you're just not in the position to support that. But partnering with an MSP that has the right mix of technology, business, and sector-specific expertise is a key component to driving your strategic goals. Not only will you have access to the latest technology and business-grade solutions that maintain uptime and profitability, you'll also be able to tap into new IT talent as an extension of your team so that your current employees' time and responsibilities are optimized for your growth.
---
REFERENCES:
Source: CompTIA "The Business Relevance of IT in the SMB Market, "December 2016
Copyright © 2017 AIS Labs, All rights reserved.